This will be my last post about character creation until Tillam dies horribly (possibly eaten by rats or in a fire). But I wanted to discuss something that seems to have taken a back seat in 4th edition. Equipping a PC with mundane items and having a detailed inventory of all your equipment how you are carrying it and how much it all weighs.
There are many schools of thought for equipping a PC. The quick summary of those I've encountered are:
1) Spend all your gold on a wide and varied selection of things eventually you will find a use for that stuff.
2) Buy only those items you know you will need. Gold can be spent on items as you know you need them.
3) Buy a standard set of equipment the same list of items every time for every character.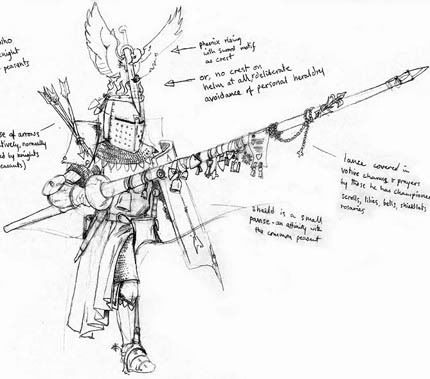 I must admit I usually option for something between options 1 and 3. This time, however, given that the campaign will be city based and Tillam is a moderately well to do businessman I've decided to go with a foppish style of equipment mostly clothing and changes of it along with a few pieces any good thief would need.
Very little of my equipment needs explanation it is all the basic stuff from the PhB but here I present his equipment. All the while trying to stay acutely aware of my carrying capacty of 35 lbs. I also do try to keep track of what is on Tillam's person and where in the event a pickpocket attempt happens.
| | | | |
| --- | --- | --- | --- |
| Item | Notes | Weight | Local. |
| Belt | | - | Worn |
| Cloak | Cloth | - | Worn |
| | AC 8 | 15 | Worn |
| Dagger | 2 on belt 2 in boots 1 on chest | 5 | Worn |
| | Special Set | 1 | Belt |
| | Soft | 0 | Worn |
| Surcoat | | 0 | Worn |
| Tunic | | 0 | Worn |
| Breeches | | 0 | Worn |
| Hose | | 0 | Worn |
| Gloves | | 0 | Worn |
| Sack Large | | .5 | Pack |
| Sack Small | x2 | .2 | Pack |
| Backpack | | 2 | Worn |
| Pouch Small | x2 | 1 | Belt |
| Pouch Large | | 1 | Belt |
| Flint & Steel | in S. Pouch 1 | 0 | Worn |
| Chalk | in S. Pouch 1 | 0 | Worn |
| | Backpack | 2 | Worn |
| Lamp Oil | x2 in L Pouch | 2 | Worn |
| Lamp Oil | 2 | | Stored |
| Torch | | | Stored |
| Sealing Wax | | | Stored |
| Gloves | | | Stored |
| Hose | 3 | | Stored |
| Breeches | 2 | | Stored |
| Tunic | 2 | | Stored |
| Boots | Soft | | Stored |
| Belt | | | Stored |
| | | | |
| | Total Weight | 31.9 | |